Small cheer and great welcome makes a merry feast

May love and laughter light your days and warm your heart and home,
May good and faithful friends be yours wherever you may roam,
May peace and plenty bless your world with joy that long endures,
May all life's passing seasons bring the best to you and yours.
Happiness is the spiritual experience of living every minute with love, grace, and gratitude.
Gratitude unlocks the fullness of life.
Gratitude makes sense of our past, brings peace for today, and creates a vision for tomorrow.
We must find time to stop and thank the people who make a difference in our lives.
Give this one day to thanks, to joy, to gratitude.
Be thankful for what we have; we'll end up having more.
If we concentrate on what we don't have, we will never, ever have enough.
Give thanks not just on Thanksgiving Day, but every day of your life.
The more we express thanks, the more gratitude we feel.
The more gratitude we feel, the more we express thanks.
It's circular, and it leads to a happier life.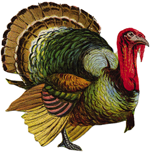 This is a time of " THANKS " and " GIVING "

a time of togetherness and gratitude,
a time to give, a time to love.
One of the joys of Thanksgiving is wishing you a
happy Holiday Season and a healthy and prosperous New Year.
Enjoy a special Thanksgiving with loved ones and friends.

May Thanksgiving be filled with love, cheer,
Harmony warm moments and cherished memories.
Wishing you peace, love and happiness on this Thanksgiving Day.

May the good things of life be yours in abundance
not only at Thanksgiving but throughout the coming year.

I deeply thankful and extend to you my best wishes for a
happy, healthy, joyous, wealthy, generous and prosperous thanksgiving.



Let us be grateful to the people who make us happy;
they are the charming gardeners who make our souls blossom.
It is not joy that makes us GRATEFUL. it is gratitude that makes us JOYFUL.

Every day life begins to sparkle when we relize our friends are the glitter.